Our Tree Care Services
Living in Shelby Township, as well as working for the past 15+ years has been extremely rewarding.  We look forward to meeting each resident, and assisting with their tree service needs.  We do understand how volatile our weather/seasons can get in western Michigan, but we have always been up to the task.  From a simple stump removal to removing a fallen tree from inside a home, we are here to help.  We work in Troy, Rochester, Macomb, and many other Shelby Township locations.  We specialize in tree removal, stump removal, and tree trimming.  View our complete list below, and contact us today!
Our Tree Care Services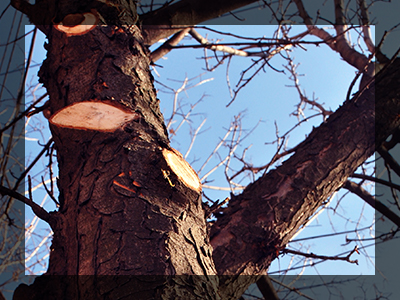 Winter Tree Trimming In Shelby
Keeping a tree alive is no simple task. Once a tree is established, it seems like a tall and true character in your yard that's unbending and unbroken. But there's so much more to caring for your trees in your yard. It's important to remember the species type, which dictate show strong the wood is and how easily your branches will break. It's important to keep track of the local diseases in the area that could harm your tree and start to kill it off, and worse, use your tree as a propagating point to access more trees in the neighborhood and harm them as well. Tree trimming and regular tree maintenance keeps your trees healthy and strong for years to come so that you won't have to face the day when you're ripping the stump of your once great oak tree out of your front yard and thinking about how long it'll take to grow another tree to that size again.
When it comes to winter trimming, many people are hesitant. They assume that because the tree is dormant it won't have the ability to heal the wounds after a quick pruning. They assume that they don't have to worry about a tree while it's dormant over the winter months. That's simply not true, and while it may be easier to ignore your trees while the snow and ice covers your yard, it's better to tend to them now, rather than deal with issues in the summer.
Tree trimming in the winter is actually very beneficial for most trees and shrubs, especially those that are popular in the Macomb area. While some assume that the wounds of a winter prune won't heal and cause gaping holes in the tree's thick, protective skin that's actually the opposite of the truth. The cold, in a sense nearly cauterizes the wound and causes less stress for the tree. This ensures that your tree will react to the sun and summer and spring stimulus positively and continue to grow big and strong when it comes out of dormancy.